Gigi is like a deliciously decorated cupcake.  This musical romantic film was created by the genius team of Lerner and Loewe, creators of My Fair Lady, Camelot and Brigadoon.
Alan Jay Lerner wrote the screenplay and the lyrics to the songs.  When he first asked his partner, Frederick (Fritz) Loewe, to write the music, Fritz declined because he did not want to work in Hollywood.  Then Alan suggested that they work in Paris.  And so, Lerner and Loewe went to Paris and created another masterpiece, this time in film.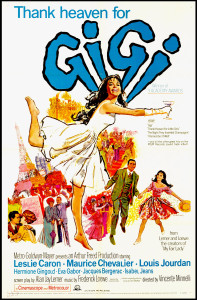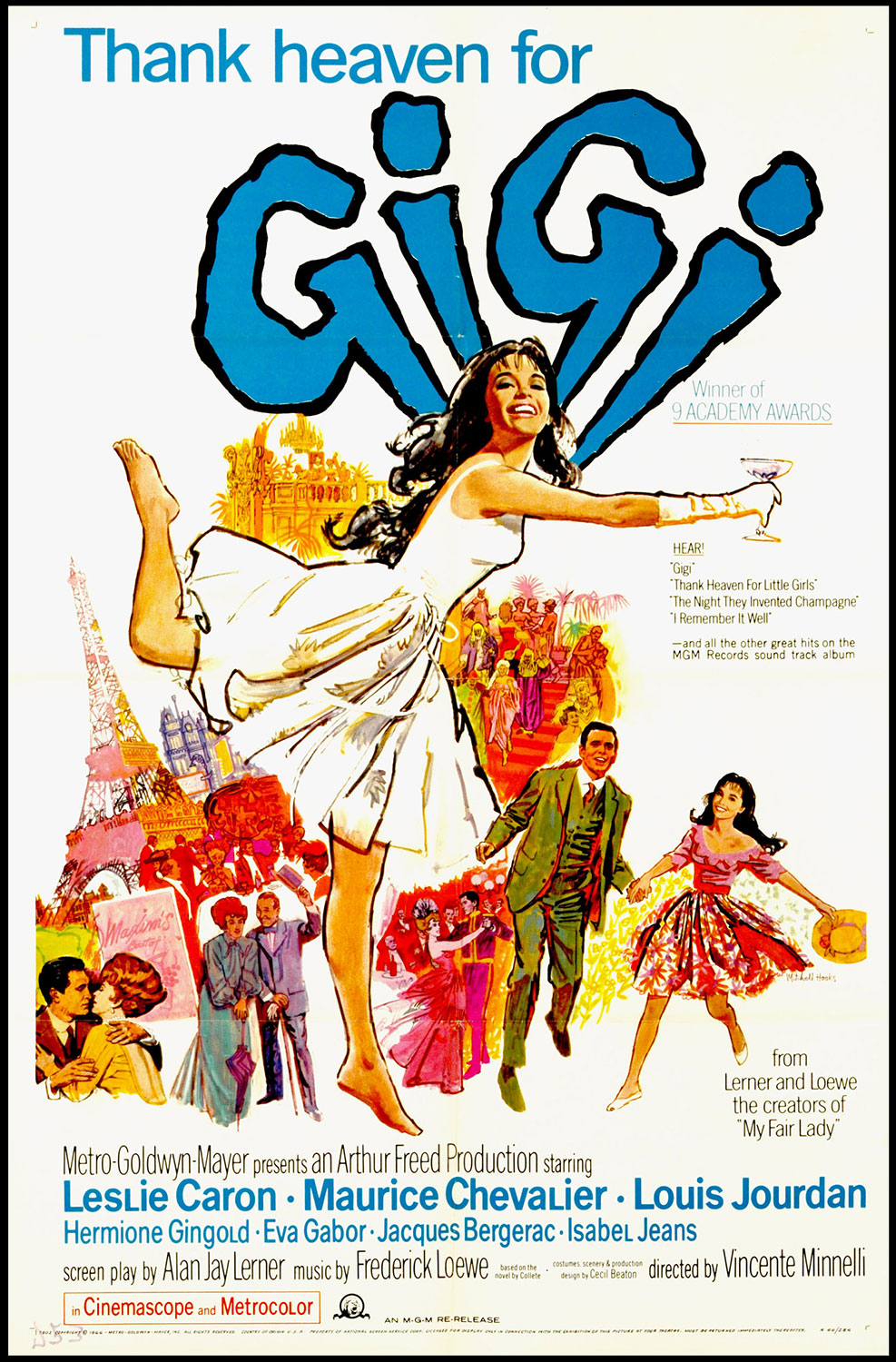 Although Lerner first considered Audrey Hepburn for the title role, Gigi, the part ultimately and beautifully went to Leslie Caron who was a world class beauty and dancer.  She had dazzled the public in An American in Paris (I must add this; Leslie performed in a movie called Lili in the early 50's when I was a little, little girl.  I fell in love with Leslie and the puppets in this movie.  I never forgot it.)
Gigi, however, is about love and marriage or love . . . and well, just love.  The movie is set at the turn of the 19th century in Paris.  That being said, Gigi was being trained to be a high class courtesan, but Gigi had greater aspirations for herself.
The song Thank Heaven For Little Girls . .  . "they grow up in the most delightful way". . .  gives you the plot of Gigi.  The charming young Gigi grows into a beautiful young woman who falls in love, and for Gigi, it will be marriage or nothing at all.  Or perhaps, she changes her mind . . .
The costumes by Cecil Beaton are magnificent.  When worn by Leslie Caron every scene is gorgeous and like a painting.
Director Vincent Minnelli had a way with musicals (Meet Me in St. Louis, The Band Wagon, etc).  He and Beaton lent their flair and made Gigi a feast for the eyes.
Gigi won 9 Academy Awards including Best Director, Vincent Minnelli; Best Screenplay, Alan J. Lerner; Best Costume Design, Cecil Beaton; Best Score, Andre Previn; Best Picture and the Best Song, Gigi by Lerner and Loewe.
Today, we salute Gigi.  Thank heaven.